Building Quality Homes and Lasting Relationships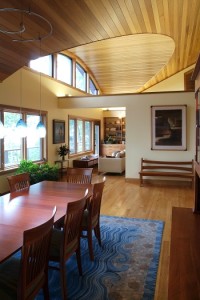 by Melissa Fears
Building a custom luxury home can be tricky business. But when the home in question is a gorgeous 5,500-square-foot home perched above the well appointed town of Harbor Springs, MI, it can turn into a masterpiece. With a reputation for precisely elegant interiors, Adelaine Construction Inc. has in the decades of its existence accumulated an impressive client base.
Steve Adelaine incorporated Adelaine Construction Inc. in 1992 after building with his father for nearly 20 years. Adelaine is a licensed builder in Michigan specializing in all forms of construction, but his
passion for woodworking is best represented in his favorite form: log construction. A family-run business, daughter Melissa Adelaine-Supernault and son Noah Adelaine have also joined the ranks at the successful firm running everyday tasks.
He has built many homes from the foundation up; from cutting the trees on the property to laying the first foundation block to setting the ceiling rafters. His vast knowledge of building allows him to visualize every aspect of a project and ensure each task is done with accuracy.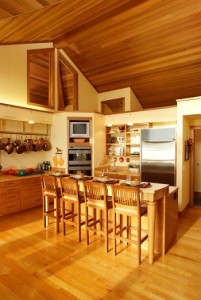 That quality could hardly be more fitting for a house set in a lakeside grove with beautiful Lake Michigan views. "The vaulted ceiling throughout the main floor was to be drywalled, but once it was framed and the 30-foot arch [was] built, it just called to be finished in clear cedar tongue and groove," Adelaine-Supernault says. "It's a striking feature in the home that feels like you're looking at a beautiful handcrafted wooden ship's hull."
A one-hundred-foot long deck was built around a large boulder and a tree, which makes for a beautiful spot to watch the sunset across Lake Michigan, says Adelaine-Supernault.
"The 'Leap of Faith' house was truly a labor of love for the homeowner/architect and our team," says Adelaine-Supernault. "Right before we started construction the homeowner/architect had a major health concern and didn't honestly believe he might be here to enjoy the home, but his daughter told him to 'take a leap of faith' and move forward." The homeowners Fred and Marita currently live there full time; they fell in love with the "vacation" home and sold their Tennessee residence.