We are very prideful to place the heritage of our last name, Adelaine, on each and every project. We strive for a professional and fun working atmosphere with our customers.
Guiding clients from conception to completion with a level of attention to detail and efficiency only a hands-on approach can provide, our superior customer experience inspires trust and allows for a constant communication flow.
There is no hurdle we won't find a solution to get over by working together with our team of employees, material suppliers, and subcontractors.
MISSION STATEMENT:
To build and remodel fine-quality, custom homes in Northern Michigan by having our homes suit their owners in form and function, using a blend of today's technology and old-fashion craftsmanship while building a lasting relationship with clients in a family atmosphere.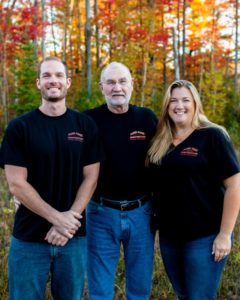 A true family business.
Noah and Melissa are third-generation builders following their father's and grandfather's expertise in building. By incorporating high-quality craftsmanship of the past with today's technology, they are able to pridefully build homes stamped with their family name.
Personal involvement.
The Adelaine Team believes in a hands-on approach to their work. An owner can always be reached in the office or on the job site for each project. Personal leadership by Melissa and Noah ensures the tradition of high standards is maintained
Employee guidance.
The crew are actual employees of Adelaine Construction that perform the physical construction of the project. From framing to finish, our crew will be onsite working under the direct organization of Noah. This provides our customers with a superior project experience as we are better able to control the schedule and craftsmanship.
Partnering with professionals.
In the business of home building today, there are times when the expertise of specialists is required. The Adelaine Team works closely with local experts that are dependable and precise in assisting us to find solutions to specialized aspects of building design and construction.
Communication is key.
When you contact Adelaine Construction, one of the owners will answer the call or return your email. Melissa and Noah directly oversee your project; you are not handed off after the initial meeting. Weekly digital pictures of our projects are uploaded to your private webpage to keep you abreast of the progress of construction and instilling a trusting relationship.
Customer relationships.
Melissa and Noah feel the best way to do business is to be attentive to their customer's needs. Understanding and personally meeting with all members of the family builds a lasting relationship, as does guiding and educating clients through the seemingly never-ending decisions to be made.
Sincerity in building.
The Adelaine Team has an honest and straightforward approach to business. We win projects by providing clients with realistic budgets at true values; not the lowest bid. Relying on professionalism and a sincere want to create projects for generations to enjoy instilling trust from the beginning.