Timber Frame in the Woods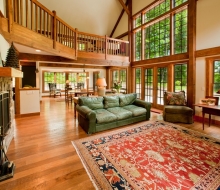 On a blustery day in 2011, a semi-trailer loaded with the raw materials to frame an entire house wound its way through Boyne City. e driver was lost, looking for the site where Adelaine Construction was to begin raising a timber-frame home. Meanwhile, snow was piling up to two feet in classic lake-effect fashion. Melissa Adelaine-Supernault, co-owner of the Harbor Springs construction company, called the local road commission to ask their plow drivers to watch for the truck. Ten minutes later the semi driver was following a personal escort and a freshly plowed path to the home site. "That's just the way it works in a small town," Melissa says.
Read the full article Traverse Magazine 2014
The Holman House, built by Adelaine Construction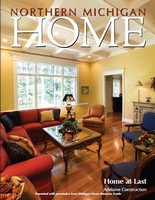 The Holman home, built by Adelaine Construction, has every detail the couple could want. "This was a wonderful client for us to work with," notes Melissa Adelaine-Supernault, CAPS, of Adelaine Construction. "The owner is in the construction business so he knew what he was looking for in a builder and, as a result, it was a real pleasure working with him." Bob walked away from his current home across the fairway to the construction site of the new home everyday.
Read the full article as published in the Home Resource Guide
Dream Homes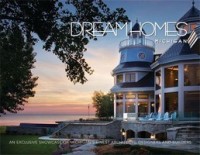 Adelaine Construction has been building quality custom homes in northern Michigan for year, thanks largely to President Steve Adelaine's lifelong association with the custom home building industry (his father worked in construction before him) as well as his experience around an array of construction types and exacting attention to detail.  He is involved with every project personally and visits each job site daily.  In recent years, Steve's daughter, Melissa, and son, Noah, have joined the family business, and are helping to grow Adelaine Construction and expand its range of services, always striving to satisfy customers beyond belief.